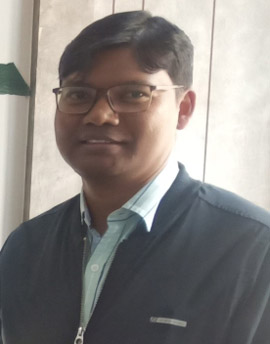 Dr. Virendra Kujur
8 years of experience in General Pediatrics, PICU and NICU Care
DCH from MGM college Indore.M.P.(2007-2009).
DNB-1 from EKTA INSTITUTE OF CHILD HEALTH Raipur C.G.(2016-2018)
1 year Junior Residentship in Department of Pediatrics & Burns and Plastic surgery from Safdarjung Hospital,New Delhi.(2005-2006)
Registrations :

(C.G.M.C.-3276/2011)on 19/01/2011

Email Address :

kujur148@gmail.com

Contact :

Phone No.: +91-9977158056
Registration with Professional Bodies :
Madhya Pradesh Medical Council (MP-6770 MBBS on 27/11/2004 & additional on 22/01/2010) .
Chhatisgarh Medical Council (C.G.M.C.-3276/2011)on 19/01/2011
Life member of Indian Medical Association.
Education :
M.B.B.S. (Sept 2003)
DCH college Indore.M.P. (June 2009)
DNB-1 Institute Of Child (August 2016-August 2018)