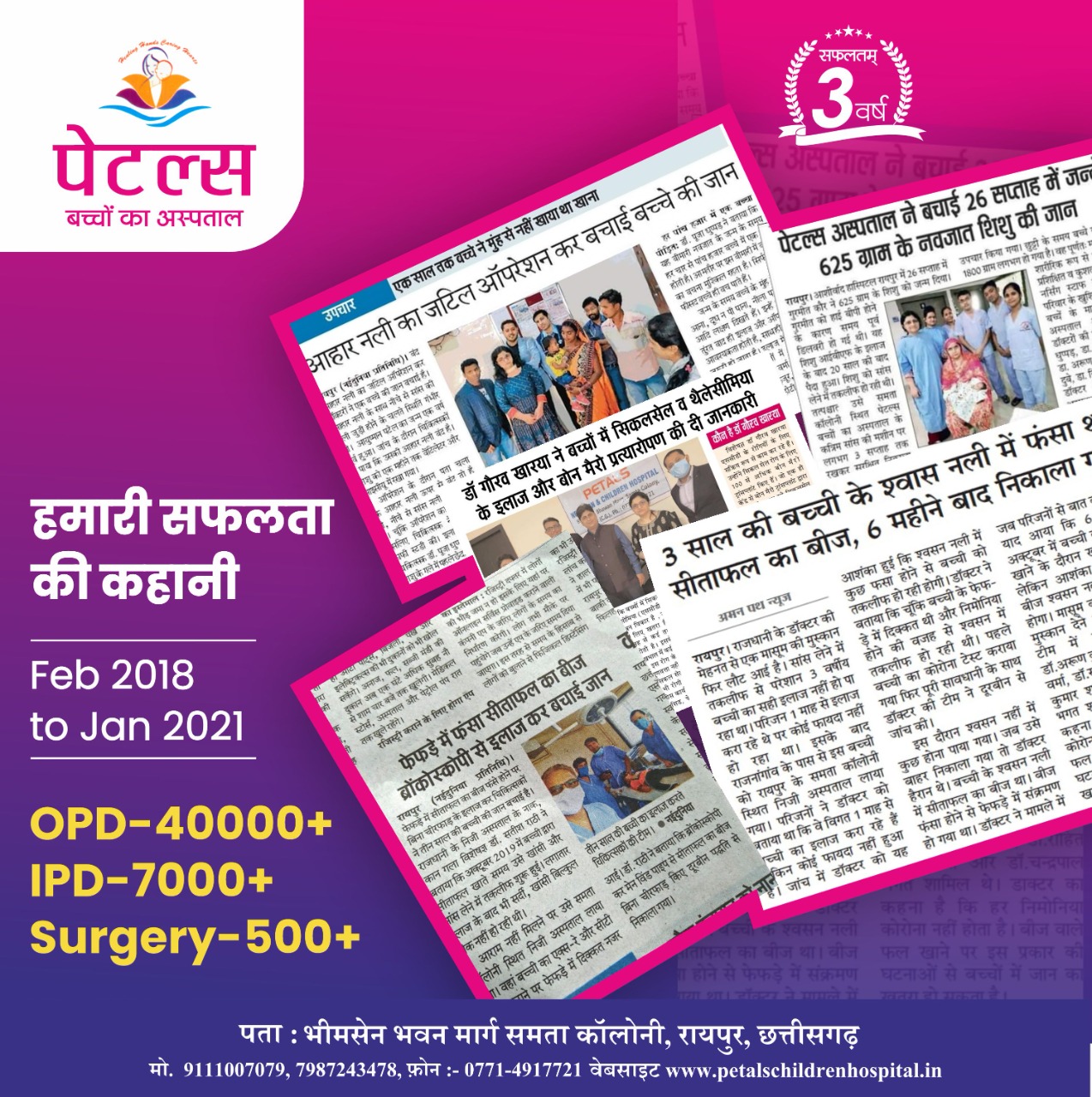 03 Years &
Counting!!!
It doesn't look like we have completed three years!! Frankly, amidst our push to create a healthier future for children, it feels like yesterday when the thought of Petals Hospital was initiated. Today, we are ranked as one of the most preferred children's hospital in the region, the credit of which goes to people out there who have shown immense trust in our diagnosis, treatment & services.
More than just a hospital
We offer a mix of skilled expertise and state-of-the-art technology. We believe that for a medical centre which is as exclusive as ours, it is important that enough heed is paid to the internal process which in turn helps in ensuring that the patients coming in get access to the most viable and effective treatment. This internal process doesn't necessarily only involve the expert set of doctors & nurses or even upgraded equipment, but the overall experience that might include an atribute which is as small as a smile on our staff's face or words of encouragement coming from our expert consultants visiting from some other city. And believe us, this does spell magic.
Well-equipped and super-efficient
Newborn & Child Care, especially in present times comes with a lot of responsibility. To fulfil that gap between efficient care and the diagnosis, a hospital has to be technologically savvy, has to have experienced doctors and most of all, have resources that are conditioned to go through the toughest scenarios and come out super-worthwhile. Our ultra-modern ambulances are designed specially keeping in mind the needs of the children during their movement from one point to another. This phase is indeed very critical and at Petals, we have ensured that our 24*7 ambulances come well-stocked with the nitty-gritties of child's emergency care. With world-class equipment like the ones needed to monitor neonatal HIE, Incubator care stations for taking care of the premature babies and cutting-edge brain monitoring systems, we have adopted the best practices that exist in child care. Our efficiency can be gauged from the fact that over a period of just 03 years ie. from Feb 2019 to Jan 2021, we have performed 40,000+ OPD's, 7000+ IPD's and 500+ Surgeries of patients coming not only from Chhattisgarh but across the region. Well, that's some number we are talking about here.
Treatments Galore
Name the treatment for the newborn or child and chances are you will find us already practising it at Petals. There have been instances where we have performed successful surgeries related to the alimentary canal or even taken out food stuck in the respiratory tract or have also been involved in getting a 26-week old, 650 gms. weighing baby saved with intact neurodevelopment outcome and no morbidities. Furthermore, we have addressed various types of challenging cases related to Neurosurgery, Gastroenterology as well as Otorhinology. So these 3 years have seen us overcoming hurdles of various sorts without even thinking twice. We have a 50-bedded Neonatal Intensive Care Unit (NICU) where solely newborns are taken care of and 10-bedded Pediatric Intensive Care Unit (PICU) where children are given the highest level of quality pediatric care.
Ask us about our plans and we will be quick to pounce on the fact that at Petals Hospital we are all geared up for the next 3 decades and beyond because for us it is not about that one-off treatment but more about that sigh of relief on your face.